Glowing Breastplate of Truth

Item Level

128

1607 Armor
+39 Stamina
+40 Intellect
Durability 165 / 165
Requires level 70
Equip: Improves critical strike rating by 42.
Equip: Restores 10 mana per 5 sec.
Equip: Increases spell power by 28.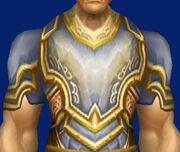 Glowing Breastplate of Truth is an epic plate chest armor for paladins.
This item drops from The Lurker Below in Serpentshrine Cavern.
External links
Edit
Ad blocker interference detected!
Wikia is a free-to-use site that makes money from advertising. We have a modified experience for viewers using ad blockers

Wikia is not accessible if you've made further modifications. Remove the custom ad blocker rule(s) and the page will load as expected.