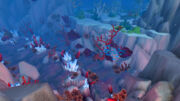 Glimmerdeep Gorge[48.2, 49.6] is an deep gash located directly west of Nespirah in the Shimmering Expanse. Care should be taken by those swimming through the area, for the great Sea serpent

 Velskar paths through part of the area.
Inhabitants
Edit
Quest givers
NPCs
Mobs
Patch changes
Edit
External links
Edit
Ad blocker interference detected!
Wikia is a free-to-use site that makes money from advertising. We have a modified experience for viewers using ad blockers

Wikia is not accessible if you've made further modifications. Remove the custom ad blocker rule(s) and the page will load as expected.