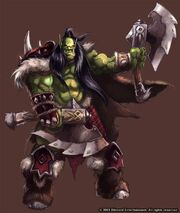 A gladiator has devoted himself to the mastery of close combat. This single-minded devotion to weaponry and fighting styles makes him much feared by his enemies who cross him, and close allies to those who manage to befriend him. A gladiator prides himself on having equal proficiency over every weapon imaginable. Most also strive to become peerless experts in a weapon of their choice. This chosen weapon weaves and sings in the gladiator's hand, carving a swath through all foes.
Most gladiators come from the ranks of fighters, warriors, or barbarians, who find the discipline and rigors of training a welcome challenge to master. Other classes require much more work to become a true gladiator.
Among the Horde, gladiators are known as blademasters.[1][2]
Gladiators in World of Warcraft
Edit

This section concerns content exclusive to World of Warcraft.
References
Edit
See also
Edit
Ad blocker interference detected!
Wikia is a free-to-use site that makes money from advertising. We have a modified experience for viewers using ad blockers

Wikia is not accessible if you've made further modifications. Remove the custom ad blocker rule(s) and the page will load as expected.