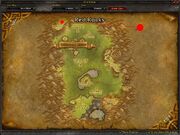 Giant critters are critters that exist within the game that increase their size naturally and not due to the use of player items. The only area that they are known to exist thus far is atop Stonetalon Pass in Mulgore; it is unknown for what reason.
The giant critters atop the Pass grow to the size of a medium dog, all with weapons and some with armor. They chase down and kill members not of their own kind if observed for long enough. The growth is not permanent, and they will revert to their normal sizes after a brief period of time. Although they have this growth property, they are not uniquely named.
Patch notes
Edit
Ad blocker interference detected!
Wikia is a free-to-use site that makes money from advertising. We have a modified experience for viewers using ad blockers

Wikia is not accessible if you've made further modifications. Remove the custom ad blocker rule(s) and the page will load as expected.