This article or section contains information that is out-of-date.

Please replace the old information with up to date information.
This may include rewriting sections to ensure they are clear and concise, and wikifying.
Reason: More clams were added in various places.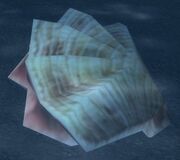 Giant clams are sea creatures found on the sea floor. They are different from regular clams in that they can only be opened and have their contents removed. The giant clams themselves can not be picked up.
Giant clams contain different items depending on the zones they are picked up in.
Patch changes
Edit

Patch 1.2.0 (18-Dec-2004): Giant Clams in the Vile Reef now drop Blue Pearls.

External links
Edit
Ad blocker interference detected!
Wikia is a free-to-use site that makes money from advertising. We have a modified experience for viewers using ad blockers

Wikia is not accessible if you've made further modifications. Remove the custom ad blocker rule(s) and the page will load as expected.