Ad blocker interference detected!
Wikia is a free-to-use site that makes money from advertising. We have a modified experience for viewers using ad blockers

Wikia is not accessible if you've made further modifications. Remove the custom ad blocker rule(s) and the page will load as expected.
Ghost Wolf

Ghost Wolf

7.2% of base mana
Turns the Shaman into a Ghost Wolf, increasing movement speed by 30%.

Usable by
Class
Shaman
Properties
Type
Utility
School
Nature
Cooldown
 (GCD 1.5 sec)
Level required
15
Related buff

Ghost Wolf
Increases movement speed by 30%.

TCG

image
Ghost Wolf is a core shaman ability learned at level 15. It transforms the shaman into the form of a ghost wolf, increasing movement speed by 30%.
Modified by
Edit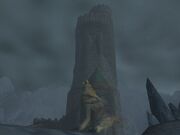 Move 30% faster (The Enchant Boot - Minor Speed enchant has no effect on Ghost Wolf speed)
Attack with a bite attack; damage and attack speed depend on what weapon the shaman has equipped.
Become hard to see by other players (though this won't affect aggressive mobs).
Your ability to loot, skin, and gather herbs remains usable.
Carry the flag in Warsong Gulch.
Do a silly dance! (/dance)
Ghost Wolf is treated as a magical buff and thus can be dispelled by priests, hunters, a felhunter, or another shaman.
Ghost Wolf can be spellstolen by a mage, though the mage won't take the morph effect, he/she will just dispel the buff.
Ghost Wolf changes your type to Beast.
There are four PvP rewards which further increase the speed by +15% speed when in ghost wolf form (will not work for players above level 60).
If

[Rockbiter Weapon]

has been cast prior to becoming a wolf and the shaman keeps that weapon equipped, it will significantly increase the damage done with each bite.
Passive abilities from weapons and items and procs are not active.
Some weapon buffs' effect are not active (like

[Flametongue Weapon]

,

[Windfury Weapon]

, and

[Frostbrand Weapon]

).
In Ghost Wolf, the caster can't:
Patch changes
Edit
External links
Edit