Gershala Nightwhisper[38, 43] is a level 20 quest giver located in Auberdine in the night elven zone of Darkshore. His brother is Argos Nightwhisper.
Removed quests
Edit


Note: These quests are no longer associated with this particular mob/NPC/item.
Cataclysm
Edit

This section concerns content exclusive to Cataclysm.
In the upcoming expansion World of Warcraft: Cataclysm, Gershala Nightwhisper is among a handful of Auberdine survivors you are tasked with rescuing for the quest The Last Wave of Survivors.
After returning Grimclaw to Lor'danel, you discover that Gershala died from his injuries shortly after you left, along with Volcor.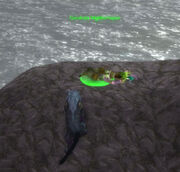 External links
Edit
Ad blocker interference detected!
Wikia is a free-to-use site that makes money from advertising. We have a modified experience for viewers using ad blockers

Wikia is not accessible if you've made further modifications. Remove the custom ad blocker rule(s) and the page will load as expected.