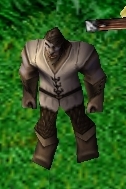 Gerard was a local villager and farmer that lived near Strahnbrad with his wife Matilda. He had his ledger, a document full of vital information regarding the farm of the local farmer, stolen by Menag of the Bloodhill Bandits when Arthas was near Strahnbrad. Arthas killed Menag and gave the ledger back, and for that action Gerard rewarded Arthas with a Tome of Strength.[1]
Quotes
Gerard: Help! Bandits are stealing my belongins!
Menag: Heh! We'll take their coins just like everyone else's!
Gerard: Those bandits stole my ledger. Without it, I will lose my entire farm! Please, retrieve it from their camp! It would mean so much for us.
---
Gerard: Thank you for helping me.
Gerard: Please take this item.
Gallery
References