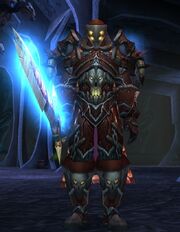 General Lightsbane
is a level 80 elite
death knight
found in the
Shadow Vault
in
Icecrown
.
[44.7, 20.0]
until you reach the next phase, that fills the Shadow Vault with
Knights of the Ebon Blade
NPCs.
When touching his weapon rack:

General Lightsbane says: You're the one that's been disrupting things? This should be easy.
His TCG flavor text is:
"The time has come to put an end to the disruption you have caused the Scourge"
Objective of
Edit
External links
Edit