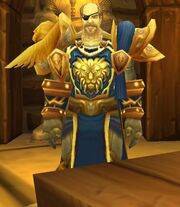 General Arlos is a high ranking commander in the Valiance Expedition, that fell to the Cult of the Damned's trickery. While there is little description of his personality, he is, according to a draenei embassary, lacking in confidence.
He is involved in the following quests:
 [68] 

Enlistment Day

 [71] 

A Time for Heroes
In Borean Tundra:
"What... what happened to me?"
"Aah... my head won't stop spinning!"
It is unknown whether or not he was made the leader of the Expedition since the Wrathgate, or even still a high ranking officer having allowed himself to be controlled by the Cult.
External links
Edit
Ad blocker interference detected!
Wikia is a free-to-use site that makes money from advertising. We have a modified experience for viewers using ad blockers

Wikia is not accessible if you've made further modifications. Remove the custom ad blocker rule(s) and the page will load as expected.