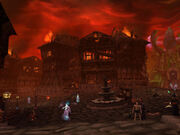 The Gauntlet is located inside Stratholme Undead Side, just past a gate leading from Elders' Square. It leads on to Slaughter Square, which is barred from entry until all the ziggurats' defenders have been slain. Entering the Gauntlet starts the 45-minute timer to save Ysida Harmon.
The Gauntlet holds numerous perpetually burning buildings, including Legacy of Steel - Fine Weaponry, Enoyls Engineering, Inc., Chilton's Magic Shop and Cash & Sons - Pawn Brokers. It is the location of Stonespine, Nerub'enkan, Baroness Anastari, the Black Guard Swordsmith, Maleki the Pallid, and Magistrate Barthilas.
Ad blocker interference detected!
Wikia is a free-to-use site that makes money from advertising. We have a modified experience for viewers using ad blockers

Wikia is not accessible if you've made further modifications. Remove the custom ad blocker rule(s) and the page will load as expected.