Gates of the Abyss is the chapter 5 of the Warcraft III: The Frozen Throne alliance campaign, Curse of the Blood Elves.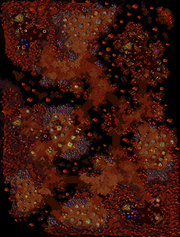 Transcript
Edit
Closing first portal.
At the middle of the battle.
After the fel orcs attacking the draenei had been defeted.
Closing the rest of the portals.
If Illidan is hit.
Freed draenei prisoners.
Portals are closed.
Ad blocker interference detected!
Wikia is a free-to-use site that makes money from advertising. We have a modified experience for viewers using ad blockers

Wikia is not accessible if you've made further modifications. Remove the custom ad blocker rule(s) and the page will load as expected.