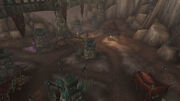 Gates of Sothann[73, 75] is the last bastion of the Burning Legion from Darkwhisper Gorge located northeast of Ascendant's Circle, and southwest of the Forge of Supplication in Mount Hyjal. Commander Jarod Shadowsong and Cenarius can be found here after doing the initial quests, offering tasks that will further destabilize the presence of the Legion and the Twilight's Hammer clan.
Flight paths
Edit
Inhabitants
Edit
Initial phase
Edit
Mobs
NPCs
Later and final phases
Edit
Merchants
  

Ildrin Farglade

 <Leatherworking Supplies>
  

Motah Tallhorn

 <General Goods>
Quest givers
Services
NPCs
Mobs
Patch notes
Edit
External links
Edit
Ad blocker interference detected!
Wikia is a free-to-use site that makes money from advertising. We have a modified experience for viewers using ad blockers

Wikia is not accessible if you've made further modifications. Remove the custom ad blocker rule(s) and the page will load as expected.