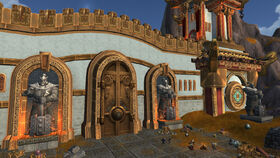 The Gate of August Celestials is a pandaren camp set up outside the sealed entrance to the Vale of Eternal Blossoms. This is likely where players may encounter the Golden Lotus faction for the first time.
Inhabitants
Edit
Services
NPCs
It appears that when the gates to the Vale are opened, the members of the Golden Lotus can no longer be found here.
Patch changes
Edit
Ad blocker interference detected!
Wikia is a free-to-use site that makes money from advertising. We have a modified experience for viewers using ad blockers

Wikia is not accessible if you've made further modifications. Remove the custom ad blocker rule(s) and the page will load as expected.