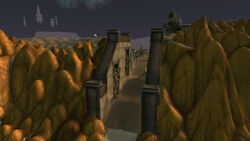 The Gate of Unending Cycles[68.5, 22.5] serves as the entrance to Uldum from Thistleshrub Valley[29.9, 65.7] in Tanaris. Players initially cross this threshold while on the quest Easy Money; their first foray does not go as planned, as players and the caravan they are with are attacked by pygmies.
Inhabitants
Edit
Patch changes
Edit
External links
Edit
Ad blocker interference detected!
Wikia is a free-to-use site that makes money from advertising. We have a modified experience for viewers using ad blockers

Wikia is not accessible if you've made further modifications. Remove the custom ad blocker rule(s) and the page will load as expected.