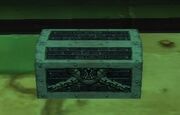 Garrett Family Chest is located near the entrance to Uldaman in Badlands. [53, 61] It is actually outside the instance of Uldaman in the tunnels. When you are facing the portal, follow the wall to the left.
Objective of
Edit
Contains [Garrett Family Treasure] for the quest

 [43D] Reclaimed Treasures.
External links
Edit