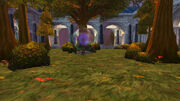 The unofficially named Garden of Stormwind Keep is found to the left when entering the Throne Room. The only person located here is Cenarion Emissary Jademoon, who sends players to Moonglade for the quest Hero's Call: Mount Hyjal!.
The ledges overlook the Stormwind City Outskirts, where the Eastern Earthshrine can be seen.
Ad blocker interference detected!
Wikia is a free-to-use site that makes money from advertising. We have a modified experience for viewers using ad blockers

Wikia is not accessible if you've made further modifications. Remove the custom ad blocker rule(s) and the page will load as expected.