104,164pages on
this wiki
Talk

0
Gar'Thok

Gender
Male
Race
Orc (Humanoid)
Level
10
Location
Razor Hill [52, 44]
See
During the founding of Durotar, Gar'Thok was Nazgrel's lieutenant and was in charge of watching over the Outpost of Razor Hill in Warcraft III: The Frozen Throne. When the Mok'Nathal Rexxar arrived Gar'Thok informed him of the Quilboar problem they had, Rexxar then quickly dealt with the problem and by using the Observatory had discovered that armed humans had gathered on the shores of Durotar. While Rexxar and company quickly departed to inform Thrall of the approaching humans, Gar'Thok remained behind. He was unfortunate enough to be present when his outpost was attacked by sailors from Kul Tiras, who slew his men brutally.
Now a days Gar'Thok is a level 10 quest giver.
He starts the following quests:
See List of Durotar NPCs.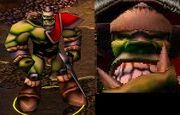 Trivia
In Warcraft III: The Frozen Throne Gar'Thok had the same stats of a regular Grunt.
External links