Gandraor
Role
Online Community Representative, French
View posts
"Sujet englouti."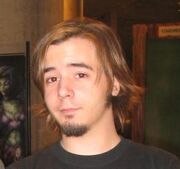 Gandraor is a Blizzard employee as French Online Community Representative, but he also posts on Spanish forums because he has both French and Spanish nationalities. He is famous for his special ability to close threads with this sentence : "Sujet englouti" (Subject submerged).
Gandraor was the first OCR in the French community team.
Ad blocker interference detected!
Wikia is a free-to-use site that makes money from advertising. We have a modified experience for viewers using ad blockers

Wikia is not accessible if you've made further modifications. Remove the custom ad blocker rule(s) and the page will load as expected.