Ad blocker interference detected!
Wikia is a free-to-use site that makes money from advertising. We have a modified experience for viewers using ad blockers

Wikia is not accessible if you've made further modifications. Remove the custom ad blocker rule(s) and the page will load as expected.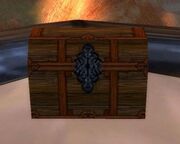 Gallywix's Lockbox is a chest guarded by Puzik Gallywix in the Sludge Fen area of northeast Barrens. [54.8, 5.6]
Contains

 [Cache of Zanzil's Altered Mixture] for the quest


[21] Mission: Possible But Not Probable.
Taking the mixture will poison yourself with Touch of Zanzil.
External links
Edit