103,454pages on
this wiki
Talk

0
| | |
| --- | --- |
| | The subject of this article or section is part of Hallow's End, a seasonal event that lasts two weeks. Once the event has run its course, this will no longer be available until next year, but there are no guarantees. |
G.N.E.R.D.S.

Requires Hallow's End
Use: Makes you look more intelligent.
"Gnomish Nutritional Effervescent Remarkably Delicious Sweets"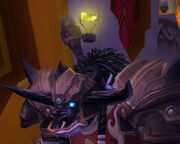 G.N.E.R.D.S. are one of the random drops from [Handful of Treats] during the Hallow's End event. A Handful of Treats can be obtained by looting the Candy Buckets during the associated quest or in a
 [Crudely Wrapped Gift] after freeing a town from the Shade of the Horseman.
G.N.E.R.D.S. are also sold by
 Dorothy and
 Chub for 2

.
The cosmetic effect is of a light bulb hovering above the player's head. This effect has a duration of five minutes and does not stack.
Inspiration
Edit
Inspired by the Nerds candy. As with many things, the Gnomes added a G to the beginning of the word!
Achievement
Edit
The

 G.N.E.R.D. Rage achievement requires a character to "Earn 10 honorable kills while under the influence of the G.N.E.R.D. buff. It's a slap in the face!". These are cumulative; they do not have to be from the same PvP event nor from a single instance of the buff.
Pre-Cataclysm
The effect of this item (dodge buff) stacked 4 times and had a duration of 30 minutes.
Patch changes
Edit
Patch 4.2.2 (30-August-2011): Dodge buff removed; cosmetic buff added.

External links
Edit