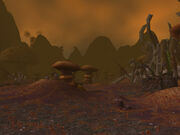 The Fungal Vale[35, 45] is one of the most corrupted areas of the Eastern Plaguelands, where the Plague of Undeath has taken a strong hold over the land. The ground is a dark purple and the Vale is filled with a murky haze. The Fungal Vale is infested with members of the Scourge and the Cult of the Damned, at levels 57-60. Rich Thorium Veins can be found here, and the higher level mobs can drop Invader's Scourgestones. The Vale is found north of the Marris Stead and Crown Guard Tower.
Ad blocker interference detected!
Wikia is a free-to-use site that makes money from advertising. We have a modified experience for viewers using ad blockers

Wikia is not accessible if you've made further modifications. Remove the custom ad blocker rule(s) and the page will load as expected.