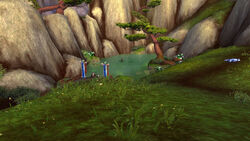 Fu's Pond[55.6, 34.9] can be found southeast of the Shang Xi Training Grounds on the Wandering Isle. This is where Aysa Cloudsinger trains, and where Merchant Lorvo fled to after his cart was attacked by sprites.
Inhabitants
Edit
Patch changes
Edit
Ad blocker interference detected!
Wikia is a free-to-use site that makes money from advertising. We have a modified experience for viewers using ad blockers

Wikia is not accessible if you've made further modifications. Remove the custom ad blocker rule(s) and the page will load as expected.