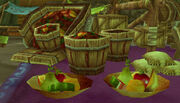 Fruit are sweet and fleshy seedpods, and are one of the six main types of food in WoW.
Player Characters can eat fruit to recover health. (No fruit items provide a Well Fed buff at this time.)
Some edible fruit items are used as ingredients for foods that can be created by cooking.
(These are the same uses as other types of food.)
Types of buyable fruit
Edit
1 This is the base price before any discounts.

See also: Fruit vendor
Ad blocker interference detected!
Wikia is a free-to-use site that makes money from advertising. We have a modified experience for viewers using ad blockers

Wikia is not accessible if you've made further modifications. Remove the custom ad blocker rule(s) and the page will load as expected.