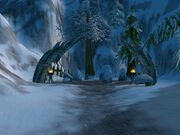 Frostwolf Graveyard (abbreviated FW or FW GY) is a graveyard located just north of Frostwolf Village. At the beginning of a battle, this graveyard is controlled by the Frostwolf Clan. The flag controlling the graveyard is directly north of the Frostwolf Village gate; however, the spawn area is northeast of the Frostwolf Village gate. This graveyard is guarded by Commander Malgor.
Unlike all other graveyard flags, the flag of this graveyard is located in relatively open plain. It does not offer any shelters for attackers or defenders.
As of Patch 2.3, Commander Malgor has been removed. The graveyard is now only guarded by the four flag guards.
Ad blocker interference detected!
Wikia is a free-to-use site that makes money from advertising. We have a modified experience for viewers using ad blockers

Wikia is not accessible if you've made further modifications. Remove the custom ad blocker rule(s) and the page will load as expected.