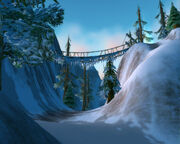 Frost Dagger Pass is the passage way right under the bridge of Snowfall Graveyard. Currently, it holds nothing of importance. However, it might have been a useful passage way before the avalanche that cut off most of Winterax Hold.
Currently, the passage is used by NPC cavalries to pass through Field of Strife if the players summon them.
Ad blocker interference detected!
Wikia is a free-to-use site that makes money from advertising. We have a modified experience for viewers using ad blockers

Wikia is not accessible if you've made further modifications. Remove the custom ad blocker rule(s) and the page will load as expected.