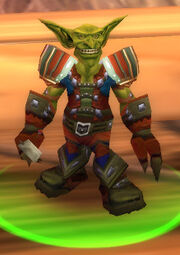 Frezza is a goblin zeppelin master located in the zeppelin tower on the eastern portion of the Orgrimmar Skyway[52.6, 52.8] atop Orgrimmar. He gives information about the Undercity, and the safety of the Zeppelin service to and from there. Of course, he then follows this safety notice with a prohibition on smoking and fire magic while on the ship.
Frezza's name may be a reference to Dragon Ball Z villain, Freeza (Frieza).
See List of Durotar NPCs.
Patch changes
Edit
External links
Edit