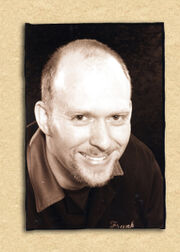 Frank Pearce is a Blizzard employee, Senior Vice President of Blizzard Entertainment and Executive Producer of the Burning Crusade.
Shane Dabiri, the lead producer of The Burning Crusade, reports to Pearce.
Pearce is also listed on the crew of South Park's "Make Love, Not Warcraft" episode.
External links
Edit

Wikipedia
Ad blocker interference detected!
Wikia is a free-to-use site that makes money from advertising. We have a modified experience for viewers using ad blockers

Wikia is not accessible if you've made further modifications. Remove the custom ad blocker rule(s) and the page will load as expected.