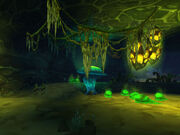 Foulspore Cavern is one of the wings of Maraudon, whose instance portal is located within the 'orange tunnels'. It is intended for players levels 32 to 42. The wing stretches past the Noxious Hollow to the Poison Falls, and is the location of the giant lasher Razorlash. It is a physically corrupted part of the dungeon, showing signs of purtidity, disease and toxicity. Besides lashers, corrupt dryads, maggots and oozes also thrive here.
Ad blocker interference detected!
Wikia is a free-to-use site that makes money from advertising. We have a modified experience for viewers using ad blockers

Wikia is not accessible if you've made further modifications. Remove the custom ad blocker rule(s) and the page will load as expected.