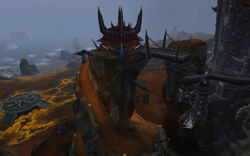 So I was going through my re-imaging project and truly this is the first time I noticed it... but is that a zep tower I see on the outskirts? I know it wasn't used in beta... but maybe alpha? Or perhaps before the fort was completed (lore wise)... either way I find it an interesting design, and probably would enjoyed using it, though it can get annoying to run in circles each time to get on and off. User:Coobra/Sig4 21:59, January 28, 2010 (UTC)
Ad blocker interference detected!
Wikia is a free-to-use site that makes money from advertising. We have a modified experience for viewers using ad blockers

Wikia is not accessible if you've made further modifications. Remove the custom ad blocker rule(s) and the page will load as expected.