Anybody who played TBC knows how -geographically and from a game mechanics POV- Deatholme lays upon the instanced version of Stratholme. How do developers should solve this issue with the addition of flying mounts in Cataclysm? If you look at the Eastern Kingdoms map of Cataclysm it seems they are going to shift the Ghostlands more East?
--N'Nanz (talk) 19:12, July 21, 2010 (UTC)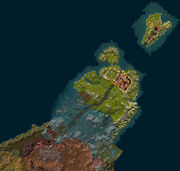 After a night of brainstorming here is the solution: take Quel'thalas (Ghostlands, Eversong Woods, Quel'Danas + Zul'Aman) and pivot it on Thalassian Pass by 30°. Nothing collides, only untextured areas gone in North-East EPG  :D --N'Nanz (talk) 09:09, July 22, 2010 (UTC)
N'Nanz
(
talk
) 17:14, July 23, 2010 (UTC)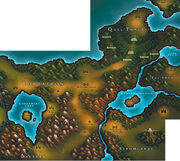 Yes, you are right but don't forget that what we see in the satelite map is only a portion of Zul'Aman. Lake Abassi, Shrine of Ula-tek and Maisara Hills are not present in-game (but they should extend behind the unused tribal gate/portal near Tor'Watha). As I said, the map I uploaded look more similar to the WC3 map that the In-game map, I didn't tell they are the same. After all Stratholme is not that far from the Elfgate (if we consider Thalassian Pass as the outer elfgate), nor Hearthglen is located that Southward... --N'Nanz (talk) 09:19, July 24, 2010 (UTC)
Ad blocker interference detected!
Wikia is a free-to-use site that makes money from advertising. We have a modified experience for viewers using ad blockers

Wikia is not accessible if you've made further modifications. Remove the custom ad blocker rule(s) and the page will load as expected.