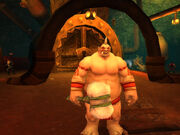 I was trying to add a picture of Rhahk'Zor from the official site to the Deadmines article. But when i clicked "save" i was redirected to a page saying
"The page you wanted to save was blocked by our filter. This is possibly caused by a link to an external site or an invalidly-named page.
If this happens, and the content you want to post is valid, please make a post about it on the technical forum, including the offending text (you may need to add a space to break it).
The following link, text or page name is what triggered our filter: h t t p : / / w w w . w o w . c o m / 2 0 1 0 / 0 3 / 1 7 / w o w - m o v i e w a t c h - w e l c o m e - t o (minus the spaces)
Return to Deadmines."
Any help would be appreciated. --Aedror42 (talk) 18:01, June 16, 2010 (UTC)