104,154pages on
this wiki
Talk

2

Fortune Coin

Use: Right Click to summon and dismiss Lucky the Golden Pig. Oink-oink! May fortune smile upon you this year!
Cooldown: 2 Min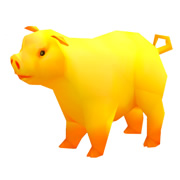 The Fortune Coin item summons and dismisses Lucky, a golden pig Companion. Occasionally, Lucky grazes on weeds and wiggles its rear.
Source
Participants of the Blizzard Worldwide Invitational 2007 were given a code that unlocks this pet in-game.
The item can be acquired from the following NPCs by redeeming the WWI promotion codes:
Notes
Warcraftpets.com reports that this pet can only be used on Korean servers. Though this seems unlikely, since there were many international visitors that attended the Worldwide Invitational 2007, a search of The Armory in the US does not find this item and the item id for this item does not produce a page of information for this item on The Armory in the US. Also, the English language admission tickets do not contain any code to unlock this pet. It seems that the item is regional only.
Inspiration
2007 was the Year of the Golden Pig. Those born in The Year of the Golden Pig are supposed to be wealthy, prosperous, lucky, and fertile.
Patch changes
0200

Patch 2.4.2 (2008-05-13): Added.

External links

WarcraftPets