Ad blocker interference detected!
Wikia is a free-to-use site that makes money from advertising. We have a modified experience for viewers using ad blockers

Wikia is not accessible if you've made further modifications. Remove the custom ad blocker rule(s) and the page will load as expected.
Formula: Enchanted Lantern

Item Level

81

Requires Enchanting (525)
Use: Teaches you how to make an Enchanted Lantern.
Requires Heavenly Shard (8), Maelstrom Crystal (1), Hypnotic Dust (8)
Vendor 20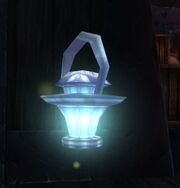 This is a enchanting formula sold by

 Agatian Fallanos for the Horde for twenty

 [Hypnotic Dust]. It is the first and currently the only companion pet that enchanters can craft. This pet is only available to the Horde, however,

 Senthii sells [Formula: Magic Lamp] for the same price.
Patches and hotfixes
Edit
External links
Edit