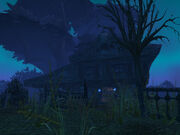 The Forlorn Rowe is located in northwestern Duskwood, on the northern edge of Raven Hill Cemetery. It is a hill cloaked in an ominous darkness, upon which the home of Morbent Fel rests. The powerful necromancer rules the forest's undead creatures through evil arcane magic, and only a special weapon can stop him. Alliance-aligned adventurers will need to do a lot of running and fighting in order to obtain this weapon.
Ad blocker interference detected!
Wikia is a free-to-use site that makes money from advertising. We have a modified experience for viewers using ad blockers

Wikia is not accessible if you've made further modifications. Remove the custom ad blocker rule(s) and the page will load as expected.