103,470pages on
this wiki
Talk

2
Force of Nature

Force of Nature

40 yd  range

1 min cooldown
Summons 3 treants to assist in the Druid's current combat role for 15 sec. Treant capabilities vary by specialization. Useable in all shapeshift forms.

Usable by
Class
Druid
Properties
School
Nature
Cooldown
1 min (GCD 1.5 sec)
Talents
Talented
Yes
Level required
60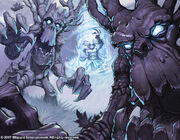 They are the fruit sprung from the seeds of service to nature.[1]
Force of Nature provides the druid with 3 treants to attack an enemy target for 15 seconds. It is a talented ability available at level 60.
Treant types
Notes
Force of Nature causes a pet bar to appear when cast, allowing the druid to choose which enemy they would like the treants to engage.
If cast when the druid is not on an enemy's aggro table, or is somehow engaged with a mob, it is common for the treants to return to the caster without attacking anything, unless the mob was aggroed by having the treants cast directly onto it.
If the treants are the only ones attacking a target for the entire duration of the fight and end up killing it, the target will not yield any Experience or Honor. This is especially important to keep in mind when helping lower-level players complete an instance - if your treants kill a boss by themselves, no-one will get quest credit for it.
Treants' health and damage scales with the druid they belong to.
Tips and tactics
Patch changes
References
External links