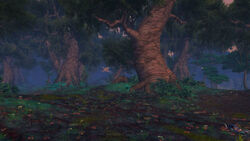 The Forbidden Jungle is a dense forest that takes up the western edge of the Krasarang Wilds and includes the Shattered Convoy. The bodies of many pandaren can be found strewn throughout the thick greenery, and a nest of spiders can be found scurrying close to the Ruins of Korja. The mantid presence is found close to the Valley of the Four Winds.
Inhabitants
Edit
NPCs
Mobs
Patch changes
Edit
External links
Edit
Ad blocker interference detected!
Wikia is a free-to-use site that makes money from advertising. We have a modified experience for viewers using ad blockers

Wikia is not accessible if you've made further modifications. Remove the custom ad blocker rule(s) and the page will load as expected.