102,958pages on
this wiki
Talk

6
This article or section is an NPC stub. You can help expand it by editing it.

NPC boilerplate  · Boilerplate help  · Research:  Wowhead  WoWDB
Not yet released!

* This article or section includes information about announced content that has not been released

yet.

The expected release date is

unknown

.

Please remove this template when the content has gone live.
This article concerns content exclusive to

Warlords of Draenor

.

* This article should only contain officially released content, such as beta and press release content.

This information is subject to change at any time. (Note this tag should only be placed on major Warlords of Draenor articles.)
See WW:DNP for the official policy on posting unreleased content.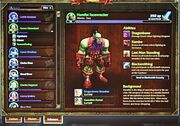 A Follower is an NPC exclusive to the Garrison system that is tied to a building that can perform tasks for a player character like limited profession gathering/crafting or go on missions.
Notes
Patch changes
References
See also
External links