Fluorescent Green Mechanostrider

Item Level

20

Races: Human, Dwarf, Night Elf, Gnome, Draenei
Requires level 20
Requires Riding (75)
Use: Teaches you how to summon this mount.
A player[1] had deleted his own mechanostrider and was mistakenly given this one by a GM (Game Master). It was only possible to see it on the European armory,[1] but has since been deleted by Blizzard[2] and replaced with a regular

 [Green Mechanostrider].
Wowhead says This item is not available to players.
It technically no longer exists, as the player who had it claims it was deleted.[2]
References
Edit
External links
Edit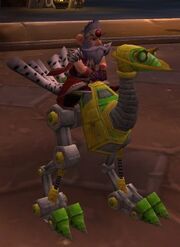 Item
Summoning spell
Ad blocker interference detected!
Wikia is a free-to-use site that makes money from advertising. We have a modified experience for viewers using ad blockers

Wikia is not accessible if you've made further modifications. Remove the custom ad blocker rule(s) and the page will load as expected.