Flame Cap

Item Level

67

Requires level 55
Use: Chance to strike a ranged or melee target for 40 fire damage. Also increases fire spell power by 80. Lasts 1 min. (3 Min Cooldown)
1 Charges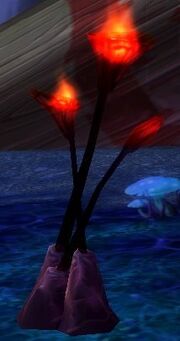 Flame Cap is a herb found exclusively in Zangarmarsh in Outland. The spawn rate however seems to be quite low. Requires 335 Herbalism to gather.
As An ingredient
Edit
Flame Cap is unusual as an herb in that it is not used in any recipe and only as a consumable.
External links
Edit
Herbalism herbs
Seeds
Apprentice
Journeyman
Expert
Artisan
Master
Grand Master
Illustrious Grand Master
Zen Master
Draenor Master
Fel? Master
† Added with
Ad blocker interference detected!
Wikia is a free-to-use site that makes money from advertising. We have a modified experience for viewers using ad blockers

Wikia is not accessible if you've made further modifications. Remove the custom ad blocker rule(s) and the page will load as expected.