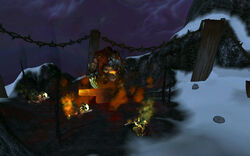 Fjorn's Anvil
is a subzone east of
Frostfield Lake
in the easternmost portion of the
Storm Peaks
.
[77, 62]
The area contains many
fire revenants
,
iron giants
, and of course
Fjorn
himself.
After completing a few quests to kill Fjorn and steal his anvil, this area will phase leaving only fire revenants in the area.
Ad blocker interference detected!
Wikia is a free-to-use site that makes money from advertising. We have a modified experience for viewers using ad blockers

Wikia is not accessible if you've made further modifications. Remove the custom ad blocker rule(s) and the page will load as expected.