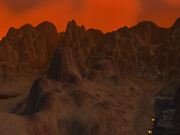 Firewatch Ridge is where the Twilight Hammer members have formed their base in the northwestern part of Searing Gorge. There is a cave where Minister Letherio commands from inside. On the outside, there is a path leading up to another section of the Twilight Hammer infiltrators. This time, Minister Finister is waiting for players. There is also a caged Night Elf, Zamael Lunthistle, towards the fire pit in the back who offers a quest to players.

 [48] Dark Ministry
Ad blocker interference detected!
Wikia is a free-to-use site that makes money from advertising. We have a modified experience for viewers using ad blockers

Wikia is not accessible if you've made further modifications. Remove the custom ad blocker rule(s) and the page will load as expected.