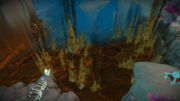 The Scalding Chasm[48, 30] is an area in the Abyssal Depths filled with scalding steam vents and wildlife corrupted by Faceless Defilers. It borders the Nightmare Depths and the Sira'kess Front. The quest givers at Promontory Point[42.8, 36.5] send players within the Chasm to perform a variety of tasks.
During the beta this area was called Fireplume Trench.
Inhabitants
Edit
Patch changes
Edit
External links
Edit
Ad blocker interference detected!
Wikia is a free-to-use site that makes money from advertising. We have a modified experience for viewers using ad blockers

Wikia is not accessible if you've made further modifications. Remove the custom ad blocker rule(s) and the page will load as expected.