Ad blocker interference detected!
Wikia is a free-to-use site that makes money from advertising. We have a modified experience for viewers using ad blockers

Wikia is not accessible if you've made further modifications. Remove the custom ad blocker rule(s) and the page will load as expected.
Were you looking for Firelands lore?
The Firelands is an outdoor raid instance introduced in Patch 4.2,[1] the second major content patch after the release of Patch 4.1 "Rise of the Zandalari". The Firelands was originally scheduled to be part of the initial release, but was delayed to focus instead on other content.[citation needed]
Prior to Patch 4.2, The Crucible of Flame, Firelands Forgeworks and Firelands Hatchery are part of the Firelands, which are only accessible through flamegates located within Mount Hyjal subzones.
The Firelands is a 10/25-man raid instance with both normal and heroic modes.[2]
The following bosses are encountered this raid:[2]
Outdoor bosses
Since this part of the raid is outdoors, these bosses can be fought in any order.
Final bosses
Drops will include Tier 12 gear and parts for the new legendary staff, [Dragonwrath, Tarecgosa's Rest] and three new mounts including the flaming Anzu.[2]
Areas of interest
Edit
Subzones
Edit
In-game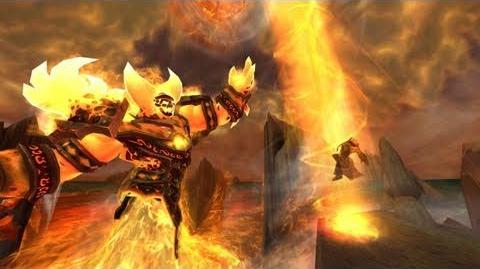 References
Edit
See also
Edit
External links
Edit
Zone
WoW Official Game Site (US)
Firelands

WoW Official Game Site (EU)
Firelands
News

Wowhead News
Firelands Normal Mode and Baradin Hold Boss Strategies
by Ashelia 2011/07/05 5:41 PM

MMO-Champion
Patch 4.2 - Firelands Raid Loot List, Blue Posts
by Boubouille 2011-06-21 07:01 AM
WoW Insider
Raid Rx: Preparing for Firelands
by Matt Low Jun 10th 2011 at 7:00PM
WoW Official Game Site (US)
Patch 4.2 Preview: The Firelands
by Kaivax, Apr 28, 2011 4:00 PM UTC
Guides

25man.com
Firelands Tactics & Strategy Guide

FranksPlace.org
Cataclysm 4.2 Avengers of Hyjal Guide

FranksPlace.org
Cataclysm 4.2 Avengers of Hyjal Firelands Faction Grinding Guide

FranksPlace.org
Cataclysm 4.2 Firelands BoE Farming and Trash Loot
Icy Veins
Comprehensive encounter guides for Firelands

LearnToRaid.com
Firelands Video Strategy Guides
WoW Insider
The Queue: Firelands FAQ
by Mathew McCurley Jun 28th 2011 at 11:00AM
WoW Insider
WoW Rookie: Getting into Firelands PUGs
by Michael Gray Sep 22nd 2011 at 4:00PM