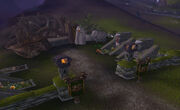 Firebeard Cemetery[57.3, 58.1] is a very small cemetery located west of Firebeard's Patrol. There is only one inhabitant, Iain Firebeard. He kneels by one of the graves, revealing to players how he and his fellow citizens survived the elemental attacks on the Patrol, thanks in no small part to Keegan Firebeard. Players are sent by him to draw together several gryphon wings to help secure their town.
Inhabitants
Edit
It is unknown whether the four graves located there are members of the Firebeard family or citizens who died in the attack.
Patch changes
Edit
External links
Edit
Ad blocker interference detected!
Wikia is a free-to-use site that makes money from advertising. We have a modified experience for viewers using ad blockers

Wikia is not accessible if you've made further modifications. Remove the custom ad blocker rule(s) and the page will load as expected.