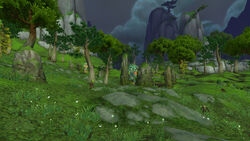 The Fertile Copse is located in the northwest of the Jade Forest. Judging by its proximity, it is likely Hellscream's Hope nearby was originally included before the arrival of the Horde. The area is inundated with hozen and various camps, bordered by tall hills to the east. Serenity Falls sits to the west, while the [[Path of Enlightenment runs along its southern border.
The southern border is also where the leader of the area's hozen, Yoggtord, can be found.
Inhabitants
Edit
Mobs
Patch changes
Edit
Ad blocker interference detected!
Wikia is a free-to-use site that makes money from advertising. We have a modified experience for viewers using ad blockers

Wikia is not accessible if you've made further modifications. Remove the custom ad blocker rule(s) and the page will load as expected.