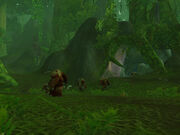 Feral Scar Vale[55.6, 56.1] is a subarea in Feralas, southwest of Dire Maul and just northwest of the High Wilderness area. It is a cave that houses several yeti. In the back of the cave is a trapped mechanical chicken by the name of Homing Robot OOX-22/FE. If you find its distress beacon, then go to Feral Scar Vale and activate the chicken, it will begin an escort quest.
This area consists of three things:
An entrance cave
A valley
A tunnel system
Ad blocker interference detected!
Wikia is a free-to-use site that makes money from advertising. We have a modified experience for viewers using ad blockers

Wikia is not accessible if you've made further modifications. Remove the custom ad blocker rule(s) and the page will load as expected.