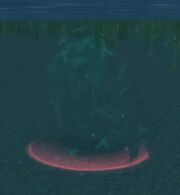 Fen Creeper can be found in Wetlands [16.4, 27.5] and are an objective of

 [26] Blisters on The Landω τ ϖ.
0.07% Chance of a rare drop.
0.70% Chance of an Uncommon drop.
0.14% Chance of a common drop.
0.23% Chance of a poor drop.
Note: % drop chance was correct at the time the page was generated/created. This will not be updated.
External links
Edit