103,470pages on
this wiki
Talk

5
This is a silly article

This article is silly. Coming from a source other than the computer games, trading card game, novels, RPG, or manga, its content is not part of official Warcraft lore, but nevertheless has become part of the culture belonging to the World of Warcraft community.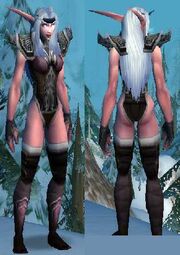 Female armor tends to cover less than does male armor. Though there are many people who see this as mere fanservice, there are real, practical reasons behind it. First, females are statistically less muscular than males, and depend more on agility and cunning than raw strength in combat, thus wearing bikinis into battle makes more sense.

Here are some examples:
Chest items
Leg items
Sets
Males In female armor
This is how Warcraft male characters, leaders and NPCs might look in female armor:
External links

Arcade Sushi
WORST DRESSED GAME CHARACTER — No. 10: World of Warcraft Female Armor
by Chris Urie
WoW Insider
Gender differences in armor
by Mike Schramm Dec 6th 2009 at 2:00PM