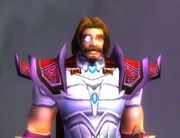 Felcloth Shoulders are a product of Tailoring.
Felcloth Shoulders are crafted by Tailors with a skill level of 300.
The recipe for this item is now taught by tailoring trainers. Formerly, it was exclusively taught by [Pattern: Felcloth Shoulders], a pattern which drops off creatures with their levels higher than 57. Common zones to find it are Blackrock Spire, Stratholme, and Dire Maul.

External links
Edit